As The Journal heads into a new year, hopefully one where the world comes to its senses and turns things around before it's too late, we decided to have a little look at what we're leaving behind us. Turns out 2016 wasn't so bad, after all.
WE WENT CALIFORNIA DREAMING
In September, we headed back to California – one of our favourite places on earth – for a two week long excursion. Travelling from San Luis Obispo and the wine country to San Francisco, Tahoe, and then back to Los Angeles – we enjoyed beautiful scenery, smooth roads, and of course, one or two Double-Double's from In N Out Burger. Read all about it over here.
AND SPENT A LONG WEEEKEND IN CAPRI TOO

All those who have had the pleasure of visiting Capri know that there are two very different ways of experiencing the same island. There's the mass-tourist one, full of tourists being ferried over from Naples, goggling at the Blue Grotto and browsing the tat at the souvenir stalls down in Marina Grande. And then there's the one we prefer, the quieter, more private place. Read all about our long weekend on this lovely island.
WE DIDN'T JUST TRAVEL, WE ALSO WENT ARTY FARTY
We've covered Daniel Arsham several times on The Journal and it's safe to say that we're massive fans. In more ways than one, he's a superstar. He did stage design for and toured with Merce Cunningham, probably the most inventive figure in modern dance, he collaborated with Pharrell, and Public School tapped him to create their runway for Men's Fashion Week. Oh, and his film Future Relic 02 happened to star James Franco. Watch him experience colour for the first time over here.
Bowie is obviously known for many things, and we all miss him dearly, but one thing most don't know know about him was his art collection which was kept almost entirely hidden from public view. This November, Sotheby's staged Bowie/Collector, a three-part sale encompassing some 400 items from the private collection of legendary musician David Bowie. At the heart of which is a remarkable group of more than 200 works by many of the most important British artists of the 20th Century, including Frank Auerbach, Damien Hirst, Henry Moore and Graham Sutherland.
WE LEARNT HOW TO DESIGN THE PERFECT YACHT CLUB
Monaco equals luxury, royalty, the sea, casinos and, of course, the most spectacular yachts. It also happens to boast one of the most exclusive yacht clubs on the planet: the Yacht Club of Monaco. Two years ago, this symbolic centrepiece held its grand re-opening, designed and developed by Norman Foster. One of the biggest names in modern architecture, Foster is famed for buildings like London's famous skyscraper, the "Gherkin" and the restored Reichstag in Berlin, which houses the German parliament. Check it out!
…AND THE TYPE OF BOATS THAT FREQUENT THEM, OF COURSE
Frank Stephenson, design director of Britain's McLaren Automotive, is probably best known for his revivals of the petite Mini Cooper and Fiat 500. But floating near his home near London is a larger and more unhurried conveyance: a wood-hulled beauty of a riverboat, also designed by Stephenson. However, unlike his previous boat, which had a massive Dodge Viper engine coiled inside, the new Riverbreeze is all about smooth, silent sailing – powered by fully electric powertrain. Splish splash, read more over here.
WE CHECKED OUT SOME SWEET RIDES – AND SOME EQUALLY COOL HOMES

"When it comes to cars you like, I think that everyone wants the cars they coveted when they were growing up," Skip Barber tells Petrolicious. "The 275 Ferrari, I can still see one in Cambridge, a bright yellow one – with a woman with the best pair of blue jeans and heels getting into the car… I got the car." Watch the awesome video right now.
Situated on a cliff in Roquebrune-Cap-Martin, featuring astonishing views over the Mediterranean, sits the legendary E1027. Inaccessible and overrun by decay, it had witnessed wartime shootings, murder and artistic vandalism. Although never quite forgotten, some thought it might never fully recover. However, after extensive restorations and to great fanfare, it was finally brought back to life and reopened to the public last year.  about this resurrected legend – and book a visit!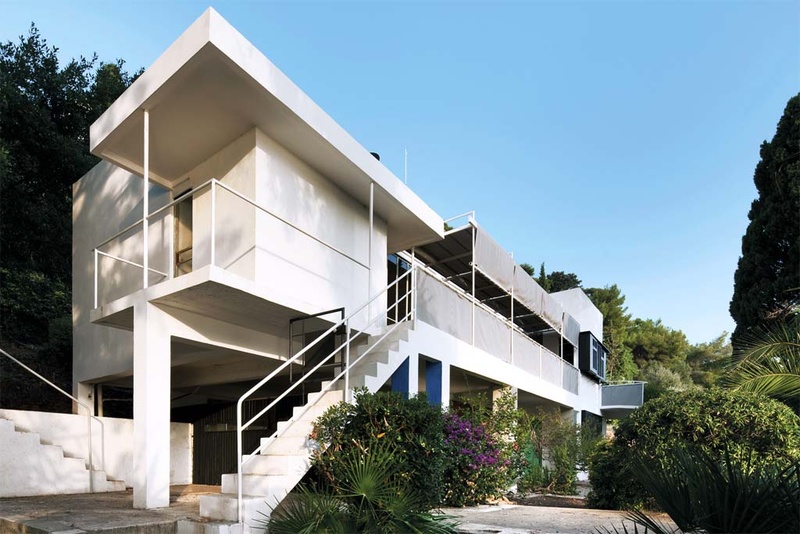 Oh, and we launched some pretty great looking watches too. Make sure to read all about them over at our Legacy pages – a proper trip down memory lane.
What were your own favourite happenings of the past year – and what do you hope to see in 2017? We'd love to hear from you!